Cambodia: A Lesson on Giving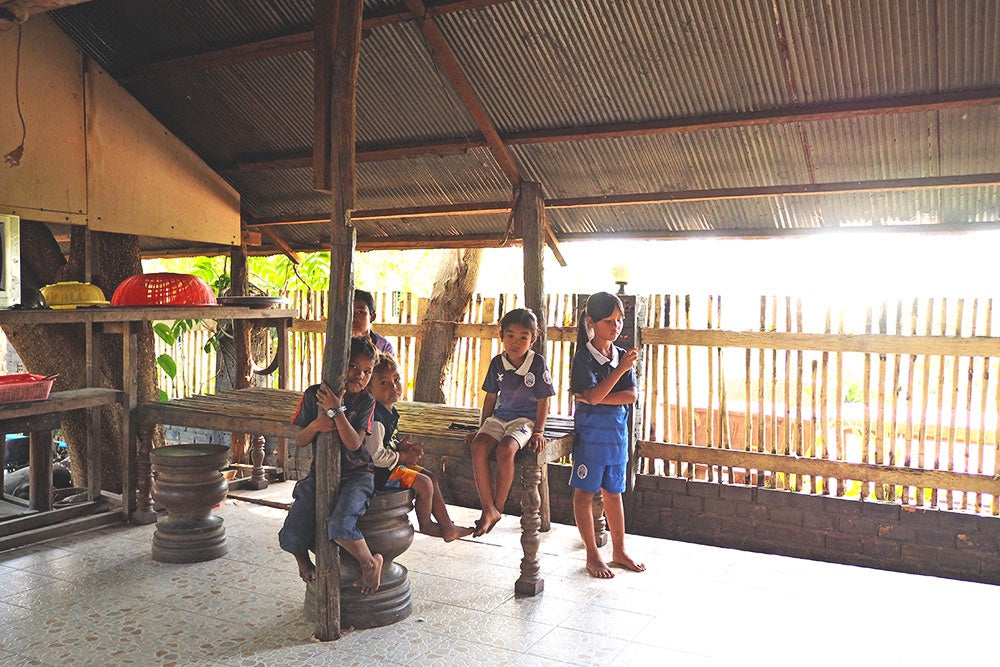 I went to Cambodia for the first time in 2005.  I remember feeling sad alot.  I had of course read about "the ravages of war" and understood at an intellectual level what it was and what it meant.  I knew that of course it would be horrible and incomprehensible.  Understanding that at an intellectual level and understanding that at an emotional level are very different things I learnt back then.  Meeting people that had gone through the hardships, and cruelties and obscenities that most everybody in Cambodia has gone through was very hard.  There are loads of other words I could use here but none really do it justice on one hand, and on the other it also trivialises the hardship that these people lived through.  I found it hard meeting and talking to them.  I could not really comprehend what it would be like to have had to live through it.  
I was young back then.  I believed in the power of good governance and policy.  It seemed that they had come through decades upon decades of hardship, but now it was over and things would take a turn for the better.  For the substantial better.  I left Cambodia feeling hopeful for these people.  Hopeful because they were hopeful. 
I went back last week.  Siem Riep has grown by leaps and bounds.  High end hotel chains line the streets and I was one of the hundred of thousands of tourists visiting Angkor. Nevertheless I felt that, plus ça change, plus c'est la même chose.  Undoubtedly Cambodians must be better off than they were 12 years ago.  The money flowing in from tourism must be trickling down to the people.  It did't really feel that way though.  The stories are still incredibly sad, the poverty is still incredibly stark. 
I met a man, my tour guide in fact, who spoke german which was my father's preference when looking for a guide.  His life's story is his to tell but needless to say it was not an easy or happy telling.  He nevertheless felt lucky.  Lucky because he was not at home when his parents were killed, lucky because his neighbours took him in and raised him. 
When he left the military as part of his decommissioning, he was given a plot of land.  This plot of land is beside a school.     As of today there are 27 children living with him.  Children that are either orphaned, whose parents are too poor to send their children to school, or children who want to go to school but live too far away.  He houses and feeds 27 children.  In his own home.   
We went to visit his home, to meet the children, and it is absolutely incredible what he is doing.  This man who has so little is giving so much.  It made me think about what I do, what it is that I give back.  I have been to countless fundraisers, given money to many causes, but have I truly helped anybody?  
There has been a paradigm shift in the last two years.  Talk about how globalisation has failed, how inequality and the policy failures of the past have led us to this ridiculous place we find ourselves in now.  Many people like me who are on the liberal side of the spectrum have been looking at this tidal wave of hate and resentment and anger and have despaired.  What can we do to stop this?  What can we do to mitigate this, is something I often ask myself.     I think that maybe I found the answer in Cambodia.  If all of us, or at least most of us help 5 maybe 10 people in our lifetimes,  really help them,  lifting them out of poverty in a meaningful and permanent way, maybe we can mitigate some of the damage and sheer fucking idiocy of some of the current governments in power.  And maybe then we can leave this place in a better place than when we arrived.   Government notwithstanding.  
If anybody is going to Cambodia and is looking for an English or German guide please contact Saroath.  Your money could not be better spent then hiring him.  If you want to give to his small cause you can also contact him directly or drop me a line and I can arrange things.  
His name:  Saroath Roeun
Email:        Saroath@hotmail.com
The House
Saroath
The bedrooms where the children sleep 4 to a bed
Children playing
The classroom where the village kids are taught english and german / The Kitchen
The table where the children eat.  Saroath is currently trying to raise money to fix the table and put a proper roof over it.