Travel Guide: Shopping in Delhi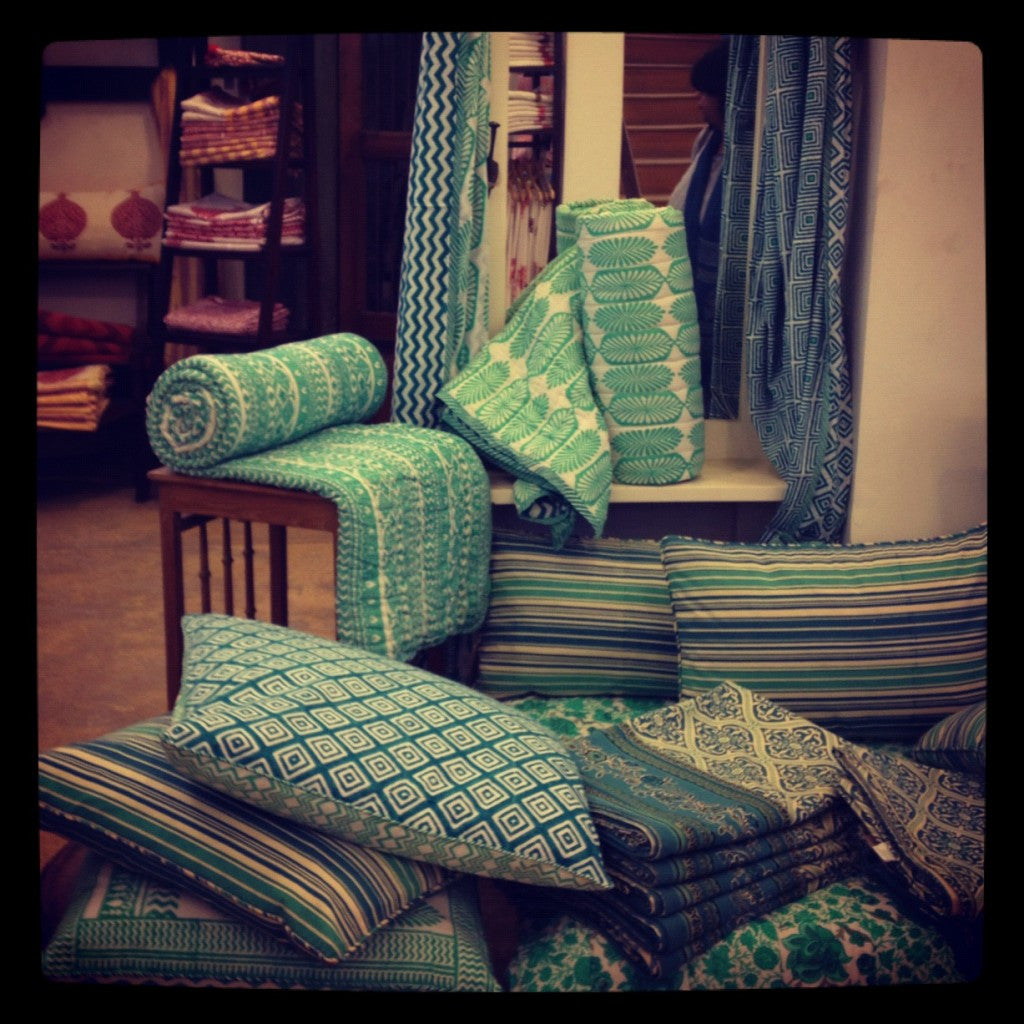 Delhi can be a confusing place to shop.  Scattered all over the city the "Markets" are not a place you would stumble upon unless you know what you are looking for. These mini shopping areas are also not organised in a very good manner, and it is easy to miss the best shops by taking a wrong turn.  Below are som tips on where to go and what to buy when in Delhi.
"N" Block Market - Address: "N" Block Market, Greater Kailash Part 1, New Delhi N Block Market is the best place to go if you are looking for home ware or clothes made out of blockprint textiles with three of the best known shops in India lined up one after the other.
Kilol: By far my favorite of the three, Kilol's prints are fresh and modern and the quality is excellent. Homeware and clothes are sold in separate shops. See pictures below
Anokhi: Loved by locals and foreigners alike, Anokhi has both great prints and is run in a sustainable way.
Fabindia: Will satisfy most of your homeware needs as you can buy everything from cotton dhurie rugs to bead spreads to placemats made of all sorts of textiles, not just block-printed ones.
Khan Market Address: South New Delhi close to the India gate
Good Earth: An amazing homeware store not to be missed if you come Delhi.  Their porcelain is particularly beautiful.
Amethyst: Great little jewellery shop selling fun and modern jewellery made out of silver and gold platted silver which won't break the bank but still looks great.  A little bit difficult to find - head to the back of the "market" and to the right.
Amrapali: Probably the best known jewellery shop in India, their Khan Market outlet stocks their cheaper range.
Silverline: As their name suggests this little shop deals mainly in silver jewellery. Rummage through the drawers to see the full selection.
Haus Khas Village
Ogaan: A very well known shop in India stocking traditional indian clothes with a bit of a twist.  If you want to buy a saree this is probably the best place to start.
Country Collection: Amazing selection of  furniture and artifacts, some antique, others made to look antique.  Make sure to ask about the piece you are getting.
Nappa Dori: India is not known for its leather goods, but Nappa Dori is an exception. Beautifully crafted leather goods with vintage Indian photos printed on canvas.  Great gifts.
All Arts: Rummage through this shop if you are a fan of old Bollywood posters.  Kitch but still cool.
Dilli Haat Adress: Aurobindi Marg, opposite INA Market A real market with with stalls and booths selling all sorts of arts and crafts from all over India this is a great place to buy presents and other nic-nacks.  See my blog entry below for more details.  
Pictures of Kilol's Homeware Products