Shopping: A guide to Moroccan Rugs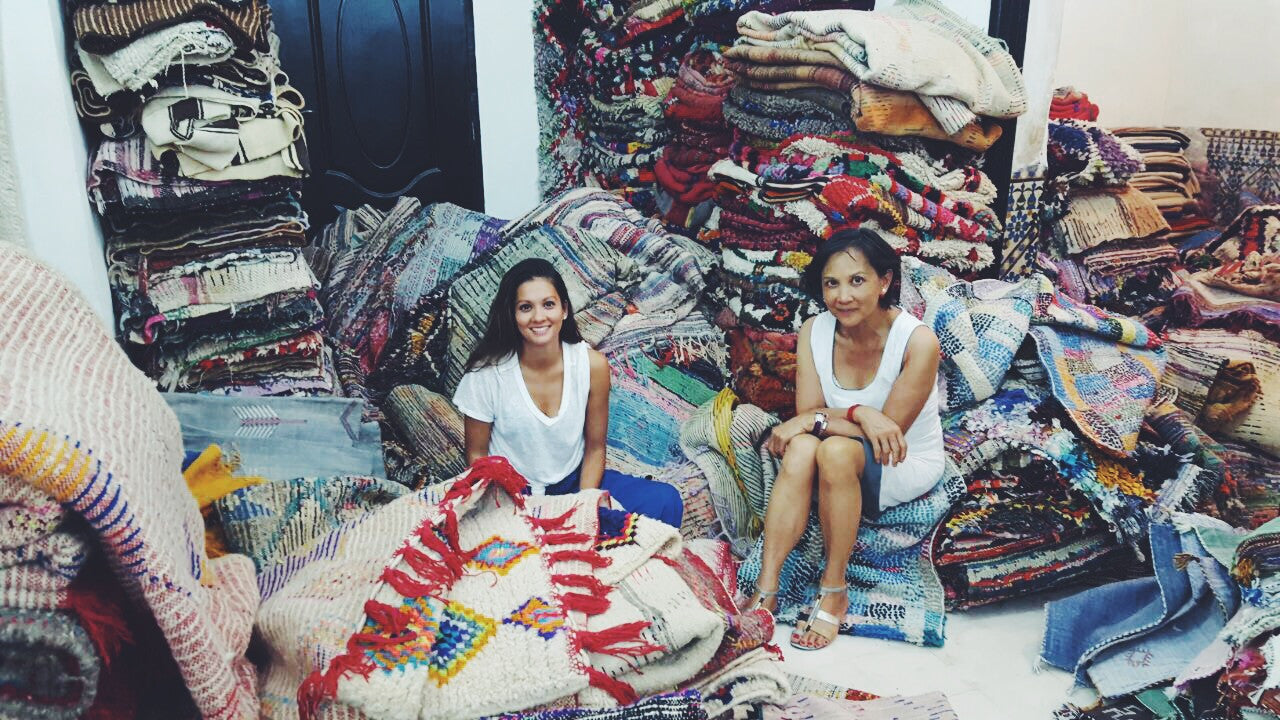 Moroccan rugs are all the rage at the moment but its hard to know which kind to go for and even what the correct price is for what you want.  I have just spent a week in Marrakech where all I did was look at rugs.  2000 pieces at least!  Below I set out what I learnt; a little guideline of what is what and what one should be looking out for.  
Generally speaking when it comes to Moroccan Rugs we are talking about Berber rugs, more specifically rugs that are not made in factories but are made by the Berber tribes themselves.  This does not mean that there aren't very good reproductions of the berber rugs made in Moroccan factory like environments that take the look, feel and style of the Berber rugs and recreate them.  All the rugs I will be mentioning below come in these three categories;  vintage and the real deal (made by berbers themselves), the real deal but new, and new but made in factories.  The price will vary according to which category you go for, the most expensive ones being the vintage ones obviously.  The advantage of buying a factory  made one is not only the price but also the size.  If you are looking for a big rug, this will be the only category that will work for you.  Everything made by the berbers themselves is never going to come in a 3 x 4 meter dimension.  
 Boucherouite
These are the rugs that have been making the Pinterest rounds.  They are essentially rag rugs, made out of old clothing.  Vintage ones in good condition can still be expensive but generally speaking this is not an expensive rug.  The reasons they are so popular is that they come in all sorts of colours.  They are not limited by the colour of traditional dyes.  If you are looking for something bright with colours like pink or turquoise or emerald, or even black this might be the only category for you.   The other upside is that you can throw it into the washing machine.  Which makes it a great rug for a kids room for example.  The downside is that they never come in really big sizes and they are made out of rags.  So if you are looking for a lush wool feel this is not for you.  
Azilal 
These are wool rugs with a white base but with some colour motifs throughout the rug. The vintage ones can be absolutely gorgeous but they are harder and harder to find.  On my last trip I did not see a single nice vintage Azilal and I only bought new ones.  They are more expensive than the Boucherouite above but cheaper than the Beni Ourains. Its a very good option if you want a white base rug with a bit of colour.  The new ones tend to come in bright even neon colours, with the vintage ones being more muted.   
Beni Ourain/ Mrirt
Although technically two different kinds of rug, to the naked non-connoisseur eye its really hard to tell the difference.  Apparently they are knotted differently.  To my understanding if they look like Beni- Ourains but are new, factory made and not in the traditional colours it's probably a Mrirt.  The vintage Beni Ourains are really really soft, but come in strange sizes.  Not really an option if you are looking for a big rug.  The new ones come in all sizes and there is now a nice selection of colours although the white with black crosses is still the most popular kind.  They are not cheap though and a small one will be around 700 USD with a big one being around 1500-2000USD.  Furthermore they are really freaking heavy as they are so thick. So think another 300 USD shipping to get it anywhere.  
Taznakht
These rugs are really nice and if you are looking for a really lush feel this is your rug.  The quality of the wool is just better although the patterns and colours are quite traditional.  Old ones are quite thin and long and more appropriate for corridors with the predominant colour being saffron.  New ones are more normal dimensions but still come in autumnal/red/orange/ colours.