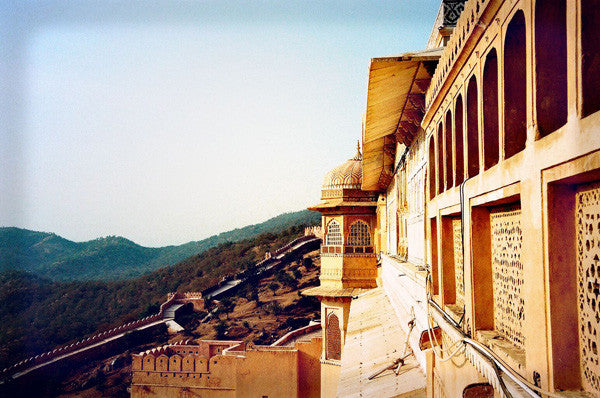 Every couple of months I get an email asking me tips for and recommendations for Rajasthan.  And every couple of months I dig out my notes and rewrite the same email (no, I am not organised enough to have a draft email I can just copy and paste).  It's that time of the year again, and I have just received not one but three emails asking for tips. So I have decided to make it simple.  Here is my definitive guide to Rajasthan.
When to go 
The best time is between October and March.  Basically when it's not too hot. Rajasthan is unbearable in the summer.  If you can time your trip to go in October to coincide with the Pushkar Camel Fair (more of that below), then that would be the absolute best.   The Holi Festival (late Feb) is also pretty special.
Best Guides
The best travel guides for India are the Love Travel Guides by Fiona Caulfield.  Best shopping and restaurants tips you are going to get, with a western sensibility.  So far the guides available are for Delhi, Jaipur, Mumbai, and Goa.  They are absolutely worth it.  You can buy them online here and here.
Do's and Dont's
Do dress appropriately.  India is still quite a conservative country.  So please leave your hot pants at home.  Last year I was in Jaipur for Holi and saw this German chick in white hot pants get her ass grabbed while she strutted her stuff in the street.  Selber schuld as the Germans say. Don't eat raw food, and only have ice in your drink if you absolutely know that the ice was made with mineral water.  When I go to India, I take some natural anti-fungal, anti bacterial, and anti parasite pills to basically kill any living organisms that might be hiding in my food.  I take the pills right after every meal.   The pills I take are ADP, Betaine, and Lactobaciluus CC (to repopulate myself with good batcteria).  I buy them at Nutrilink in London and have them shipped.  It means I don't have to be as careful and I haven't caught the killer amoeba yet.
Jaipur
Hotels:
Rambagh Palace - This is the former residence of the Maharaja of Jaipur and it is gorgeous.  Good location, beautiful grounds, 5 star service.  You feel like a princess when you are there.
Oberoi Raj Villas - This is an absolutely beautiful hotel, but it is very out of the way and unless you are going to Jaipur on your honey moon and you just want to lay by the pool and relax I am not sure I would recommend it.
If you are looking for a more midrange hotel there are Havelis all over the city.  Havelis are old heritage houses and many of them have been converted into hotels and are still run by the family.  
I have stayed at Diggi Palace which I chose primarily for location. The rooms were huge, the gardens very nice, but of course the whole place had seen better days.  It was still a very pleasant stay.  You can also rent apartments at the Diggi for longer stays.
Shopping:
Amrapali – Panch Batti M.I. Road  - There is jewellery all over the city in Jaipur but I find the best design and selection at Amrapali.  The quality is good, the designs are contemporary and the staff are really nice.   The fine jewellery collection is on the second floor. They have outlets all over the city but this is the best one.  The outlet at the Rambagh is also not bad.
Gem Palace -  M. I. Road - This is the Cartier of India.  If you are looking to spend some real money this is where you should do it. Kilol - E-141/A Sardar Patel Marg, C-Scheme- Block print is very typical of Rajasthan and I have found the best selection for home ware to be at Kilol. The prints are fresh and modern and the quality is excellent.
Anokhi - C-11 Prithviraj Road, C-Scheme - Clothing and homeware brand loved by locals and foreigners.  Run in a sustainable way that promotes the communities it maintains, it is also the only place you can have a salad if you are in real need of something raw.  All the vegetables come from their gardens and are properly washed before being served.
Vimla Interntional - Singh House, Near Hotel Raj Palace - If you are looking for cotton Dhuries I found the selection at Vimla to be excellent.  They supply the Oberoi in Jaipur which is how I found them in the first place.  Nice prints.
Scarves - There are scarves in India like there is sand in the desert.  Every second shop will be a scarf shop.  If you are looking for cheap scarves then any shop will do really, its just a question of finding a print you like.  If you want more high quality stuff like 100% pure pashminas, kanis or  shaminas then it is best to go to somebody you trust.  I recommend the following two:
Sozni – 2/25 Nagar Nigam Colony Amer Road
Kashmiri Emporium – Rambagh Palace.  They have a larger showroom called The Cashmir Art Emporium  - 2/36 Nagar Nigam Colony Amer Road
Must-see tourist attraction
Amber Fort  - Get up early to miss the crowds, ride up to the fort on an elephant and get the Audio Guide which does an excellent job in explaining the structure as well as showing what life was like for the people that lived there.  You won't regret it. 
Pushkar
The Pushkar Fair which happens every year sometime between the end of October and the beginning of November is one of the most incredible experiences I have had.  Yes it has become a tourist attraction, but there are still 50,000 camels, horses and cows, and the people attending are there to barter.  Yes there are signs of modernity here and there, people on mobile phones and tourists with large cameras, but the majority of people are there to trade livestock! Livestock -  a completely foreign concept for me as there is no need in my life for a camel.  Also if I needed one, I would probably google it and buy it on the internet perhaps.  I really felt like I was getting a glimpse of what life was like 200 years ago.  In fact I almost felt like I was Anakin in Tatooine. Places to stay - You basically have to stay in a camp while you are there (camp as in tent). I stayed at Camp Bliss which did the job,  but there are loads of camps all around and its a question of how much you are willing to spend.  The tents are huge and have real beds so its not really camping, more like glamping. 
Udaipur
The Lake Palace Hotel - If you can only splurge on one luxury hotel while in India this is it. The Lake Palace is in the middle of the lake, and it is incredible.  There is a pier on the mainland where you are collected, and when you arrive at the palace they shower you with rose petals and that is just the start. I went with my mother.  Best to go with your lover/hubby, it is VERY romantic.
Must see store - Ganesh - this is an incredible treasure trove.  A huge haveli covering multiple stories filled with treasure.  Ask the hotel concierge to direct you as it is a little bit hidden and I only stumbled across it by accident.
 Jodphur
The blue city is quite small and you see most of it in a couple of hours.  While I was there I took the opportunity to go out into the country side and see some of the villages.  It was really eye opening as I do not think their life has changed much in the last 1000 years.  No running water, no electricity, still grinding corn and flower in a stone grind.  Modernity and globalisation has certainly not reached all the corners of the world yet.